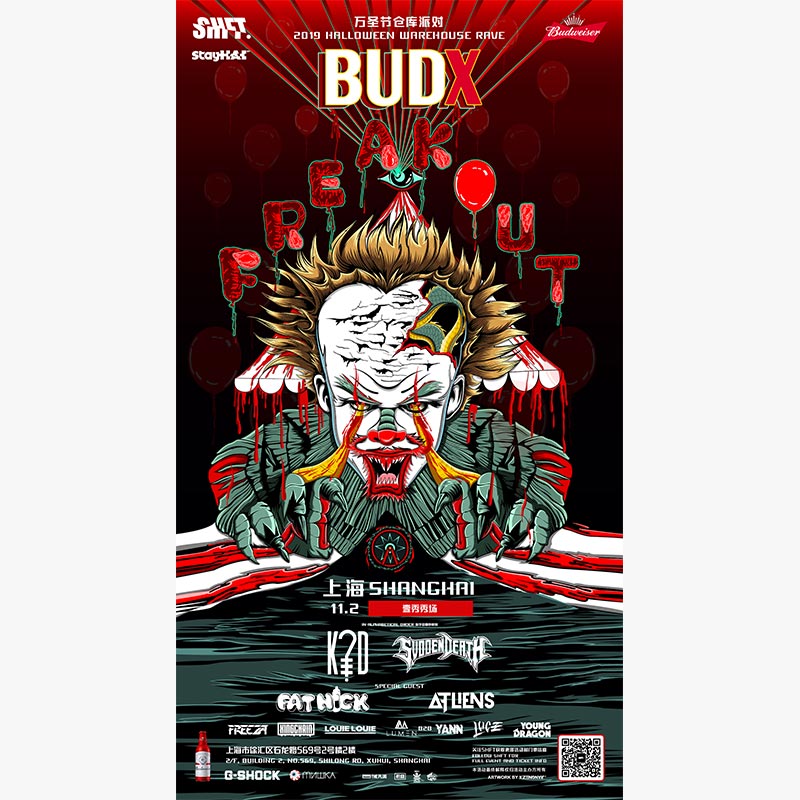 DJs and Rappers from all over China have gone missing!
Strange noises of laughter and screams have been heard deep in the night by citizens all over the country. Reports state that the noises are coming from the sewers running under the city. Ayi's have claimed they have seen the dark figures of clowns walking the streets at night and mysterious giant red balloons have been spotted drifting over multiple cities. No one can explain what in the world I happening, but what is clear, is this is only the beginning. Something big is coming. You have been warned!
WELCOME TO BUDX FREAK OUT 2019! Where all your nightmares become reality! China's number # 1 Halloween warehouse rave is back! We have terrified and brought unforgettable memories to Chinas for the last 4 years. For our 5th edition we bring all the ravers, party people and freaks our EVIL CIRCUS. That's right ladies and gentlemen, we are bringing you an action packed line up with DJ and Rap Superstars: Herobust, Svdden Death, K?D, ATLiens, and Fat Nick. But it does not stop there. This year we bring you the evil circus experience, with games, monsters, and more. So go get your party crew together and pick out your costumes because this is going to be a Halloween party that will leave ripples in the history of time! Shanghai, Shenzhen, Chengdu, Fosha, Xiamen, Beijing, are you ready!!!!!?

November 2, 2019 (Sat)
7PM-3AM

壹秀秀场
2/F, Building 2, 569 Shilong Rd, Xuhui