South Yunnan Travel Luxury Villa Package: RMB4,699 for 2 Nights (Bargain Price!)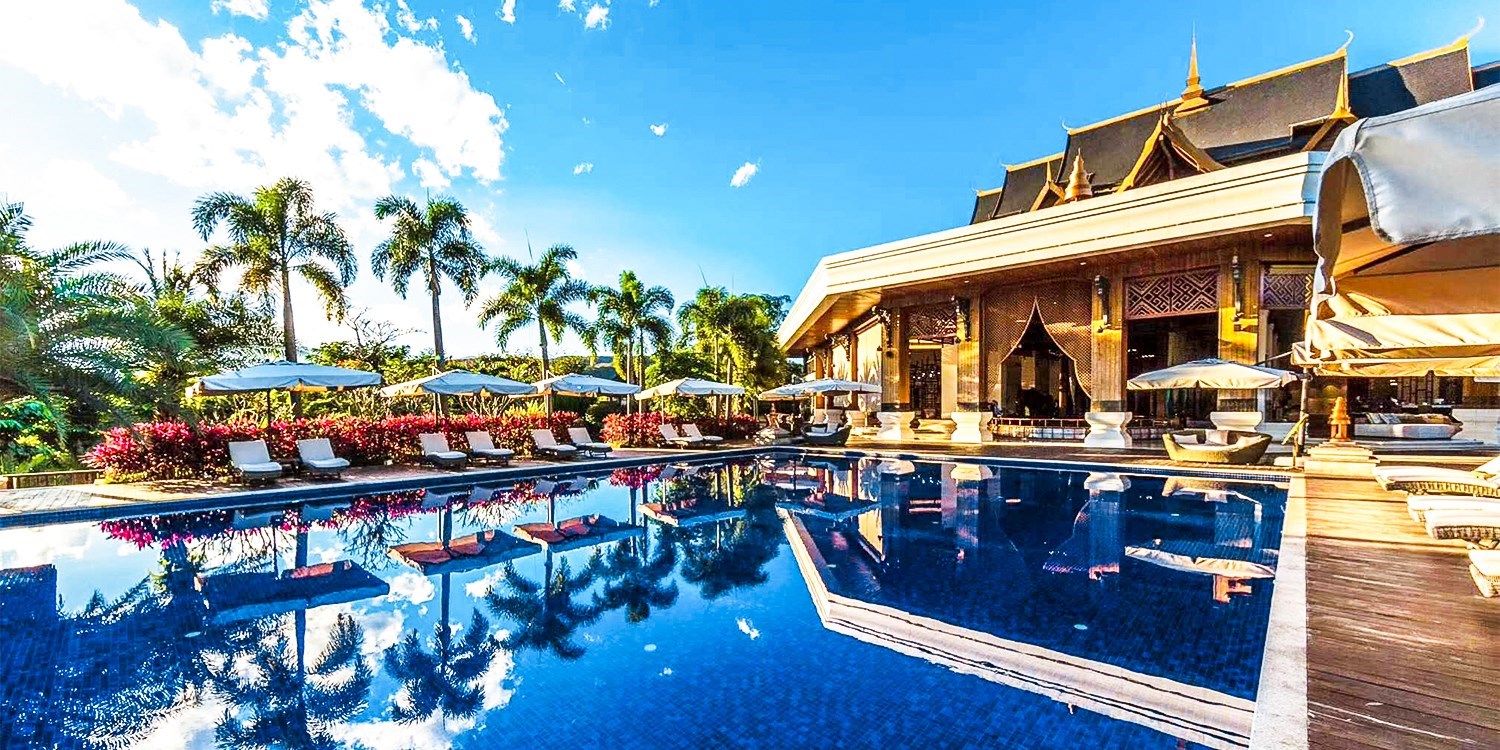 Wangtianshu resort xishuangbanna
Gaasa town yuejingzhuang villa area in building E37
jinghong
yunnan
17787553002

Package includes a 188 ㎡ private villa at the newly opened Warm Tree Villas Holiday Hotel Xishuangbanna, round-trip airport shuttle, car hire and more.
Discover the tropical beauty of Xishuangbanna in Southern Yunnan with this fantastic travel package. This exotic rainforest paradise is becoming one of southwest China's hottest destinations, and it's easy to see why. Along with magical rainforests, visitors can also explore Xishuangbanna's distinctive Dai minority culture, try delicious regional fruits and mushrooms and more.
There's no better way to explore Xishuangbanna than with a stay at the newly opened Warm Tree Villas Holiday Hotel. Tucked away in a secluded part of the rainforest, the luxury hotel comprises 37 private villas designed with a touch of Southeast Asian charm and featuring scenic views of the region's stunning mountains and lush greenery.
This special travel package is just RMB4,699 for two nights in a two-bedroom rainforest villa, and includes four adult and two child breakfasts per day, a shuttle to and from the airport, private driver service to Xishuangbanna's main attractions, daily villa butler service, exclusive gifts and more!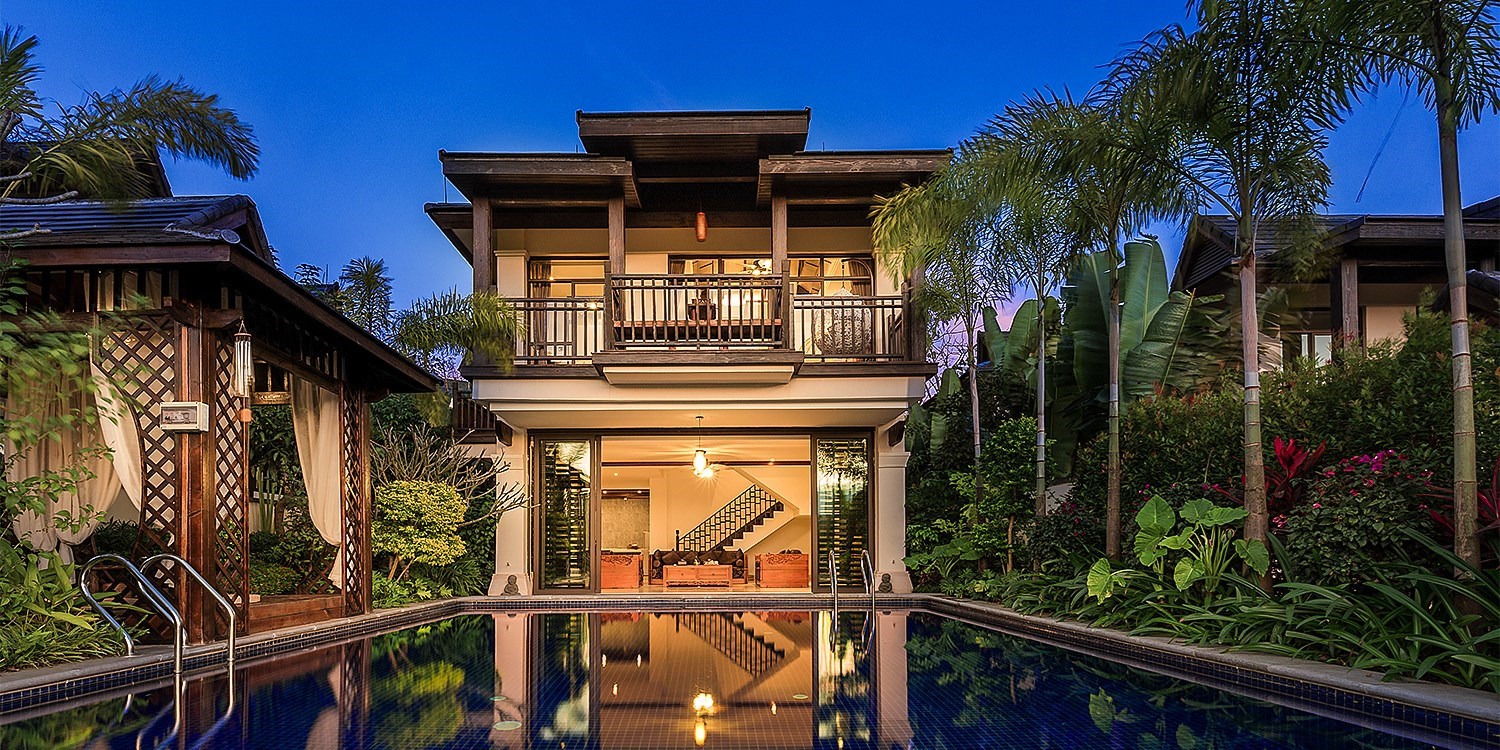 Package includes:
1.2 nights in a luxury two-bedroom rainforest courtyard villa
2.Four adult and two child breakfasts per day
3.An extra crib for small children
4.Welcome fruits or drinks upon check-in
5.Hotel limousine complimentary shuttle service
6.A tour of the hotel viewing deck or morning courtyard exercises
7.Private use of the hotel limousine service for the following tours (can use up to two times):
8.Dai Traditional Village/Dai King Garden (3-4 hours)
9.Food exploration around the hotel.Local driver will take you to look for cuisine (3 hours)
10.Complimentary local souvenirs (your choice between a Pu'er tea cake, Dai-style satcheland Naxi auspicious hand strings)
11.Optional late check-out (up to4pm)
12.Discounted room rates for additional nights (up to 60 percent off): RMB2,268 per night, with a free upgrade toluxurious double bedroom pool villa
13.Upgrade to star pool: RMB1,600/2 night price difference (please make cash payment at the front desk)
Enjoy private luxury in a single-family 188 ㎡ villa, featuring a garden, jacuzzi and barbecue station. On the first floor of the villa, you'll find a spacious living room and dining area.
*Note that package deals exclude transportation (i.e. flights, trains, long distance bus, etc). Customers must arrange this independently. Please confirm reservations with the hotels once you purchase a travel package. Bookings are subject to hotel availability.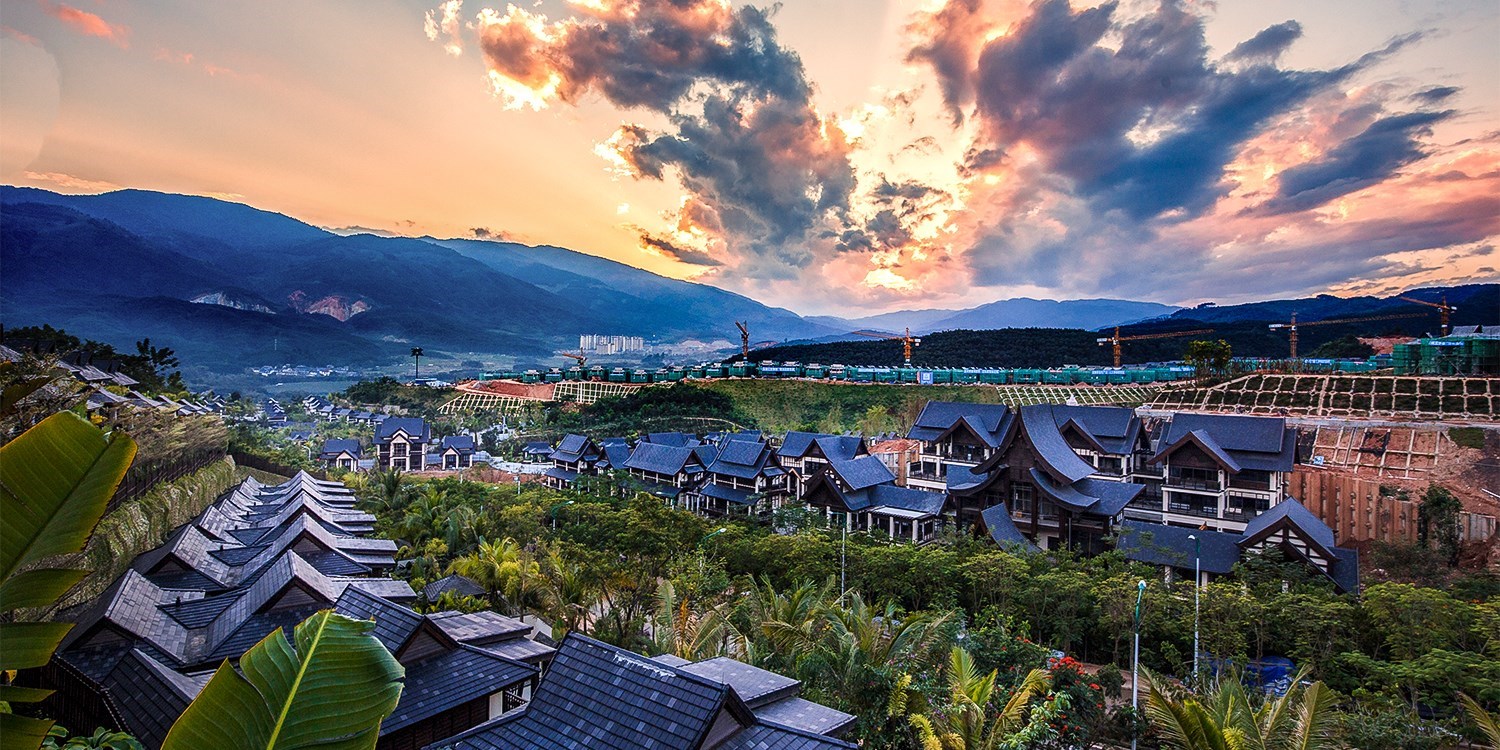 Meanwhile, each bedroom is equipped with large beds and independent bathroom space that are both private and comfortable. The villas also feature outdoor garden pavilions and private jacuzzis. The pavilions are ideal for sightseeing, yoga, reading or relaxing.
If you're hankering for something tasty, each villa has its own independent open kitchen and barbecue table, which is suitable for picnics for the whole family. You can cook your own DIY meals or ask your private butler to whip up some delicious local cuisine.
If you'd like to upgrade to a 198 ㎡ sky villa with private swimming pool, it's just a bargain price difference of RMB1,600 for two nights.
The villas at Warm Tree Resort offer panoramic views of Yuejing Village's gorgeous mountainside landscape. It's the perfect urban escape that allows you to take in the beauty of Xishuangbanna's wild tropical climate.
Staying at the Warm Tree Resort is like a one-stop vacation. Guests can enjoy private butler service, morning exercises on the viewing platform, swimming in the infinity pool, hotel shuttles and airport pickup service.
For those looking to discover the surrounding environment, a hotel butler can take you to explore the traditional customs of Dai villages, stilted buildings and traditional handicrafts. Enjoy up to two complimentary car trips to discover Dai villages, where you can savor authentic cuisine.
This travel package also includes free shuttle service to and from the airport. From the moment you step into the hotel, you'll be pampered with luxurious hospitality.
Xishuangbanna, which means "ideal and magical paradise" in the ancient Dai language, is a kingdom of animals and plants. Located in southwest China, the region features fascinating elements of both Chinese and Southeast Asian history and culture.
A trip to Xishuangbanna offers the perfect escape into the great outdoors. With up to 95 percent of the area covered by mountains and hills, as well as an annual average temperature of 20 degrees Celcius, it is the ideal destination for your next vacation. The hotel itself as also located close to many of Xishuangbanna's most popular tourist attractions, including the Dai Nationality Garden, Tropical Botanical Garden, Mange Buddhist Temple, Manting Park and Jinghong City Water Plaza. You can head over to those spots yourself, or you can ask your butler to take you there.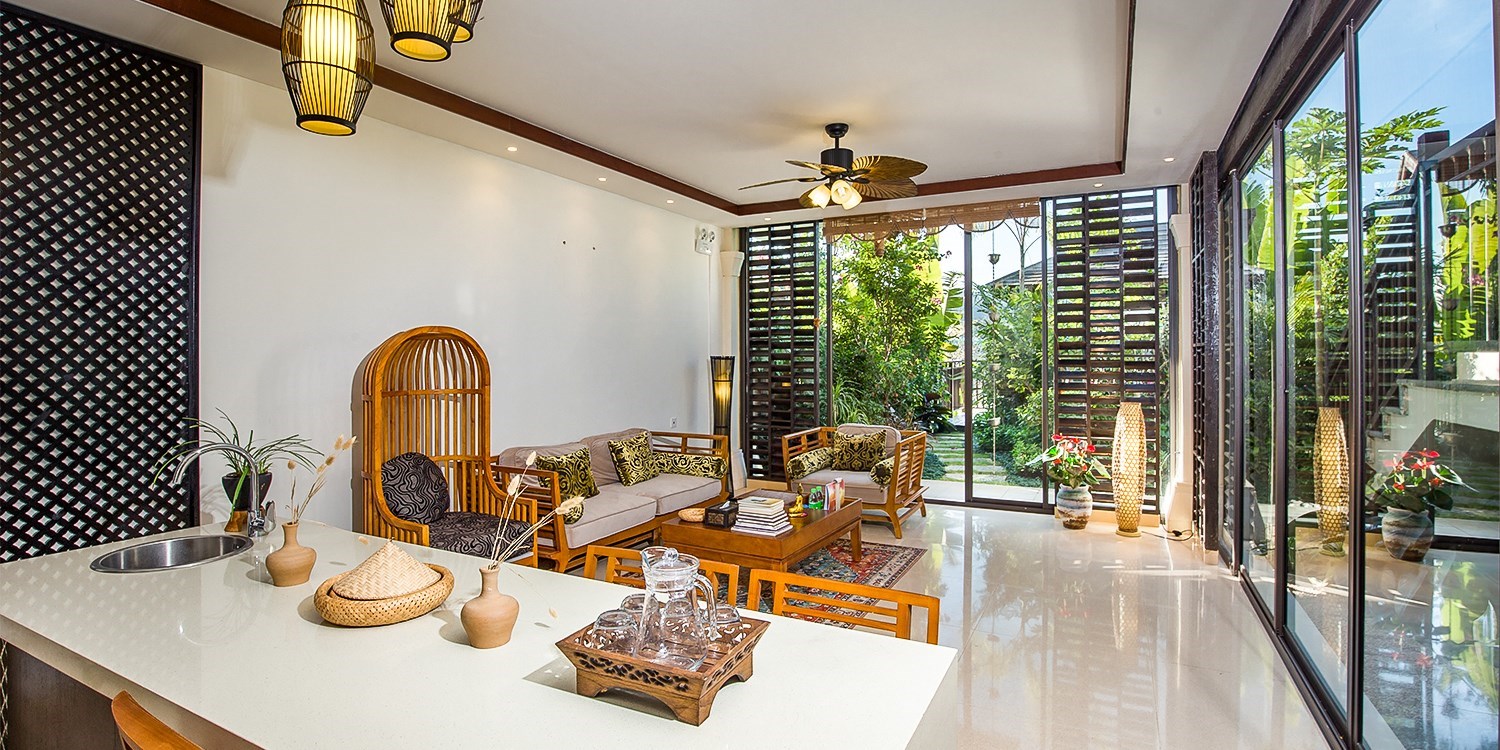 This package is valid until the end of July, which is a suitable time for parents and children to visit during the summer holidays.
This offer is different from booking directly with the hotel, and the package only applies when you purchase the voucher through thMart.
Notes:
[Validity Period] April 1, 2019 - July 31, 2019 (additional fees apply during the Water-Sprinkling Festival and public holidays; please contact the hotel directly for more details)
[Upgrade Reservations] Call 1778-7553-002 (please book at least 3 days in advance, or 7 days in advance for public holidays)
[Refund/Cancellation Policy] If the reservation needs to be modified or cancelled after confirmation, please notify the hotel at least one day in advance. Otherwise, the voucher will be deemed invalid.
A valid credit card is required to secure the reservation.
All service charges are included in this package. You don't need to pay any extra fees.
Each coupon can only be used once and cannot be exchanged for cash or shared with other privileges.
Tickets are limited while stock lasts.
The offer does not apply to group and booked transactions.
Please read our refund policy carefully before purchasing.
When you apply for a refund, we will refund your unused/unreserved coupons in accordance with the refund policy.
Please do not click on the merchant link to make the exchange on your mobile phone. Clicking on the exchange by yourself marks the coupon as used, invalidating your purchase.
¥4,699/2晚双卧别墅 – 西双版纳雨林秘境【新开全别墅】!188㎡+早+往返接送机+专车出游2次+伴手礼等
西双版纳望天墅度假酒店
嘎洒镇悦景庄别墅区内E37栋
景洪
云南
17787553002

产品亮点
超值价格
• 这里拥有神秘姽丽的澜沧江,广袤的热带雨林
• 这里特色的傣寨风情、民族文化
• 这里还有诸多鲜美的菌子、汁多鲜甜的热带水果
• 西双版纳,一个身在国内却仿若来到异域的神奇地方!
而在版纳,有一家雨林秘境中的全别墅酒店更是吸引了制作人的目光,37 栋东南亚风情别墅依山而建,层峦耸翠,私密美丽。ThMart商城 会员私享超值特惠,¥4,699 入住 2 晚双卧雨林别墅,含每日 4 大 2 小早餐、往返商务车接送机、每日别墅管家带领专车出游 1 次以及伴手礼,周末暑假全部通用!
优惠详情

• ¥4,699 -- 2晚雨林豪华双卧庭院独栋别墅度假
o 含 每日4 大 2 小精致早餐
o 额外可加婴儿床一张
o 欢迎水果或饮品 1 份
o 酒店豪华轿车免费接送机服务
o 游酒店观景平台或环绕庭院做晨练
o 酒店豪华轿车包车游两次:
o 酒店周边短途旅行一次,探访傣族传统村寨/傣王花园 ( 3 - 4 小时)
o 酒店周边美食探索一次,当地司机带您寻觅美食(3 小时)
o 离店精美礼品相赠(普洱茶饼、傣式小挎包、纳西族吉祥手串)三选一
o 可延迟退房到 16:00
o 续住享门市价 6 折优惠:¥2,268 /晚 ,同时免费升级房型至星空豪华双卧泳池独栋别墅入住。
o 升级入住星空泳池 : ¥1,600/2 晚差价(前台现付)

推荐原因
• 豪华私享:独栋 188 ㎡ 双卧别墅/园林/泡池/烧烤台
o 入住 188 ㎡ 的双卧雨林别墅,适合两家入住。
o 别墅一楼是客厅与餐厅,与户外的傣式庭院无墙衔接,全方位亲近大自然。卧室均设有超大睡床,两个卧室均设有独立的卫浴空间,私密舒适。
o 户外还设有风情凉亭与私汤泡池,凉亭是赏景、瑜伽、阅读、小憩的理想之所。晒着温柔的阳光,庭院中屋檐下风铃的作响,缭绕于脑海的一切烦恼都自然而然地烟消云散。而私家泡池潺潺灵动的流水,身处其中雨林山岚触手可及。
o 别墅拥有独立开放式厨房,烧烤台,很适合全家一起享受难得的野炊乐趣,自己 DIY 或者寻求专属管家的帮助,美味大餐唾手可得。
o 还可以超值价格升级入住 ¥1,600 / 2 晚差价升级入住自带泳池的 198 ㎡ 星空别墅,在私人泳池畅游。
• 低密度景区:天天森呼吸
o 掩隐于悦景庄旅游度假区之内,私家别墅依山而建,私密安逸,引人入胜。悦景庄整体占地 2 万亩,凭雨林气候将景观之美发挥至浑然天成的境界
o 仅 37 栋低密度别墅坐落于整体 2 万亩的度假村内,全部位于悦景庄地势最高处,视野开阔,庄园全景,一览无余。
o 度假村庭院内四季鲜花不败,鲜果不断,于错落有致的景观庄园天天森呼吸,享受满满的负氧离子。
• 一站式度假:私家管家/观景平台晨练/无边泳池畅游/酒店专车出游/机场接送
o 在酒店管家带领下每天晨练,呼吸吐纳带来一整天的好精神。
o 畅游酒店无边泳池,享受被园林包围的"野外"畅快感。
o 酒店管家专车出游两次,一次带你寻访傣寨的传统风情,吊脚楼、传统手工艺,深入傣族百姓民居融入傣家生活。一次带你品味地道的傣族美食,不随潮流推荐,只享当地人的质朴之味。
o 包含专车接送机,从出机场那一刻就感受酒店无微不至的舒适贵族服务。
• 奇域风情:西南净土/隐世小众 /避暑畅用
o 西双版纳在古代傣语中意为"理想而神奇的乐土",这里是动物与植物的王国,民族文化的交融折射出魅力四溢的南亚风情,不出国门却来到异域。但同时又没有人头攒动、语言壁垒,隐世度假避人潮。
o 西双版纳 95% 的土地被山脉与丘陵覆盖,全年 20 度的平均气温提供了绝佳的度假休闲场地,此次合作有效期直至 7 月底,正适合暑假亲子前往。

ThMart Tip: 周围景区推荐:
酒店位置出色,版纳州民族风情园、版纳热带花卉园、西双版纳总佛寺、曼听公园以及景洪市泼水广场都距离不远。可根据喜好自行前往或请管家带领前往。
此优惠与直接向酒店预订方式有所不同,您将通过 ThMart商城 交易程序购买兑换券。
【适用日期】2019 年 4 月14 日至 7月 31 日(泼水节及法定节假日期间需补差价,具体详询酒店)
【预约方式】请至少提前 2 天,节假日至少提前 5 天,致电 此优惠与直接向酒店预订方式有所不同,您将通过 ThMart商城 交易程序购买兑换券。
【适用日期】2019 年 4 月 1 日至 8 月 31 日
【预约方式】请至少提前 3 天,节假日至少提前 7 天,致电 1778 – 7553 - 002
【退改政策】预订确认后如需修改或取消,需提前至少 1天通知酒店,否则兑换券当做废论
预订时需要提供有效信用卡信息作为预订担保。
套餐已包含服务费,您无需额外支付,其余消费除外。每张兑换券只能使用一次,兑换券不能兑换成现金、也不能与其它优惠同享。兑换券数量有限,售完即止。
优惠不适用于团体及已预订的交易。请您在购买前仔细阅读我们销售条款中的退款政策。对于您未消费/未预约的兑换券,在您申请退款时,我们将按照退款政策为您办理退款。请勿在手机客户端自行点击商户兑换,自行点击兑换则视为该兑换券已使用,因此视同作废。