Shaoxing Cherry Blossom Travel Package — RMB3,688 for 2 Nights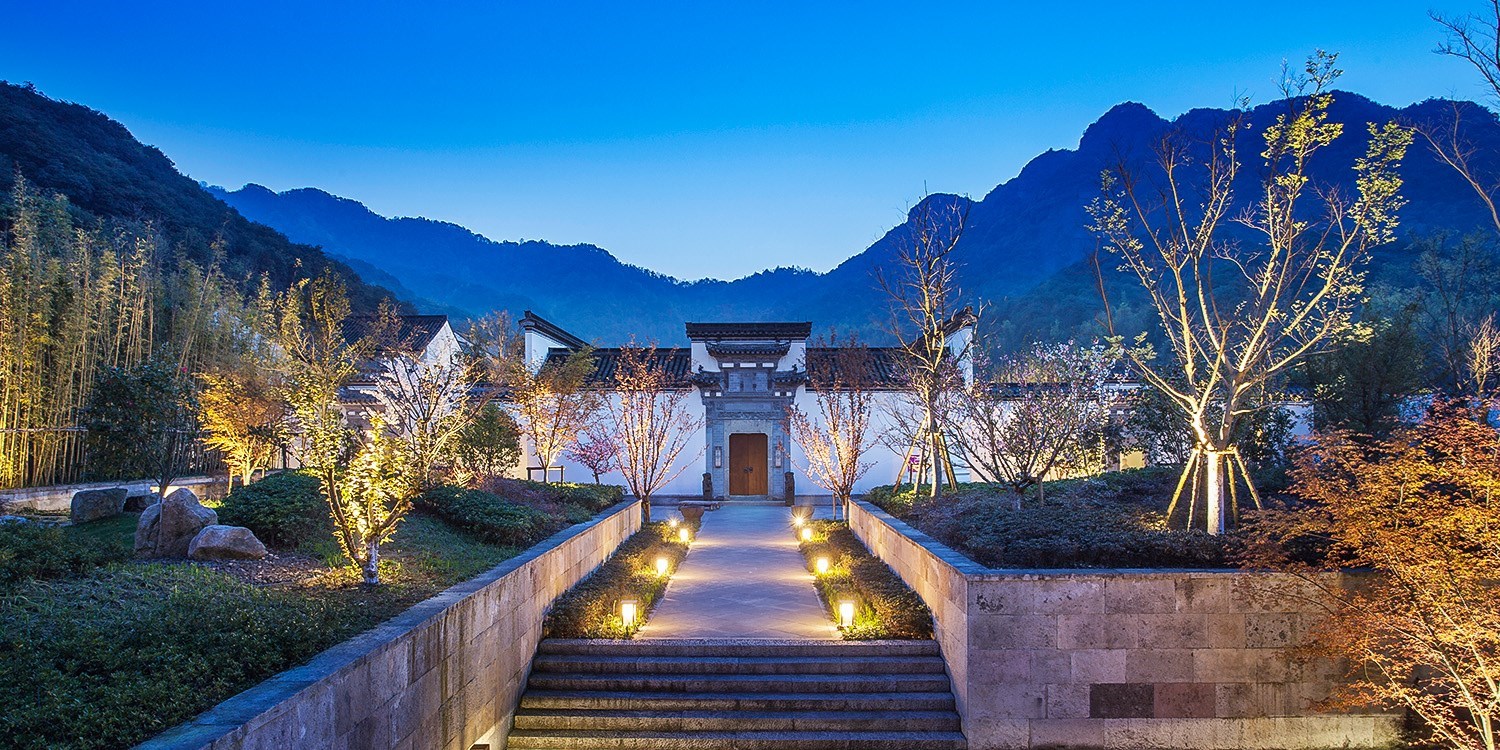 3,688/2 night -- [only 30 days for this season]
Limit to 160 ㎡ litres YangMingGe + early dinner and mini-bar
It's time for a spring outing! If you want to see the seasonal cherry blossoms at an affordable price, then here's a special deal for you. Take an excursion to Shaoxing to see the cherry blossoms in full bloom and stay at the Shaoxing Lanting Anlu Hotel for 5.5% off.
The Shaoxing Lanting Anlu Hotel is located at the foot of Wanxiu Mountain, built in an ancient Huizhou-style manor house. The large villa is sure to make it a comfortable stay for your whole family.
This spring season, the hotel is offering an exclusive 5.5% discount to thMart members.
For just RMB3,688 for two nights, you'll get upgraded to a 160㎡villa room (limited availability, first come, first served). The package also includes a dinner (valued at RMB500), free access to the hotel mini bar and complimentary kite-making acitivity. Plus, breakfast is free for children under 12.
This special deal is only available for purchase until April 26, so hurry and lock in your exclusive offer now! This offer is valid for bookings until June 30. Additionally, UnionPay cardholders can enjoy additional discounts of up to 6 percent.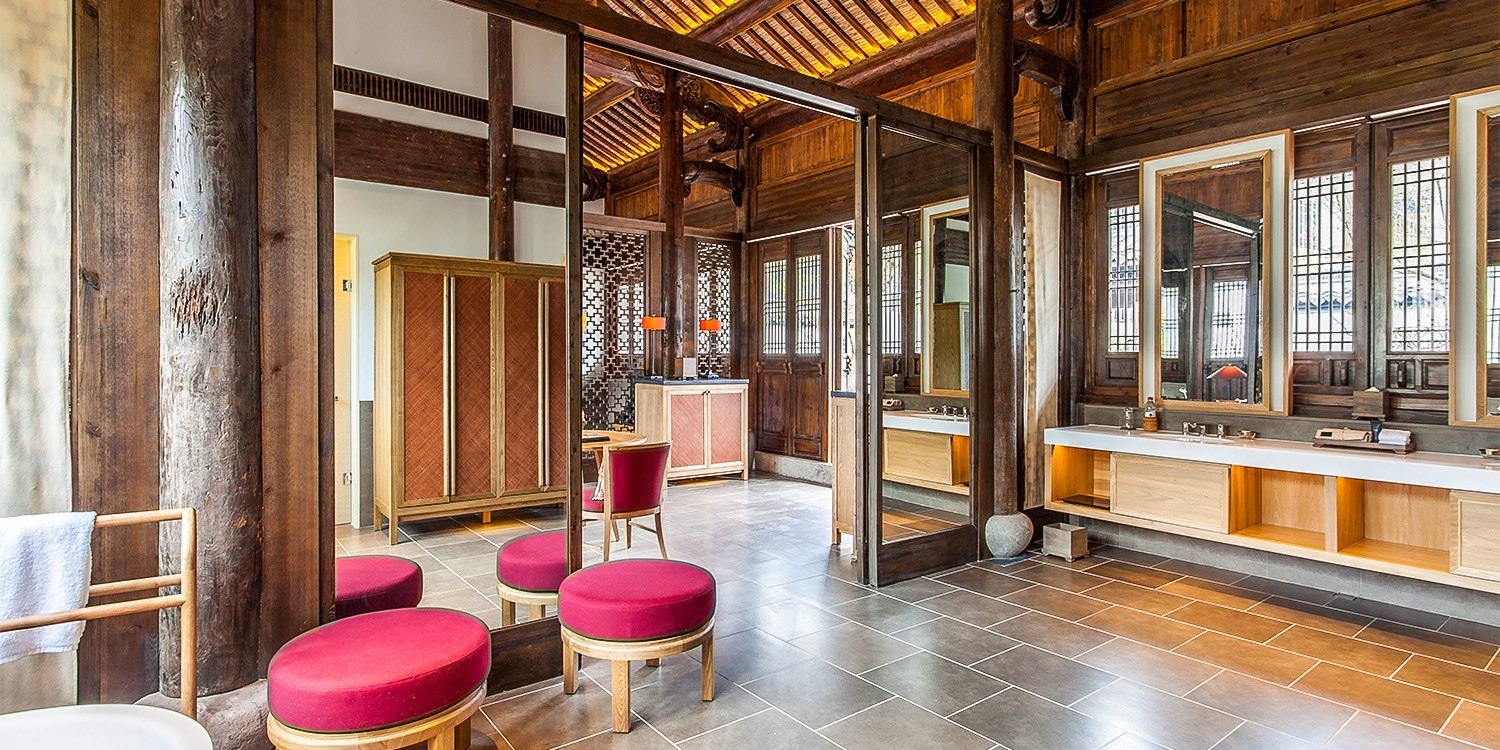 Package inclusions:
1.A free upgrade to 160 ㎡ YangMingGe (limited availability, first come, first served)
2.Sunday to Wednesday check-ins, limited to the first 5 bookings
3.From Thursday to Saturday, only the first 2 rooms
4.Daily breakfast buffet for two
5.Dinner for two (RMB500)
6.Hand-painted kite making activity (valued at RMB168)
7.Late night food
8.Free mini bar access
9.Daily breakfast is free for children under 12 years old
*Note that package deals exclude transportation (i.e. flights, trains, long distance bus, etc). Customers must arrange this independently. Please confirm reservations with the hotels once you purchase a travel package. Bookings are subject to hotel availability.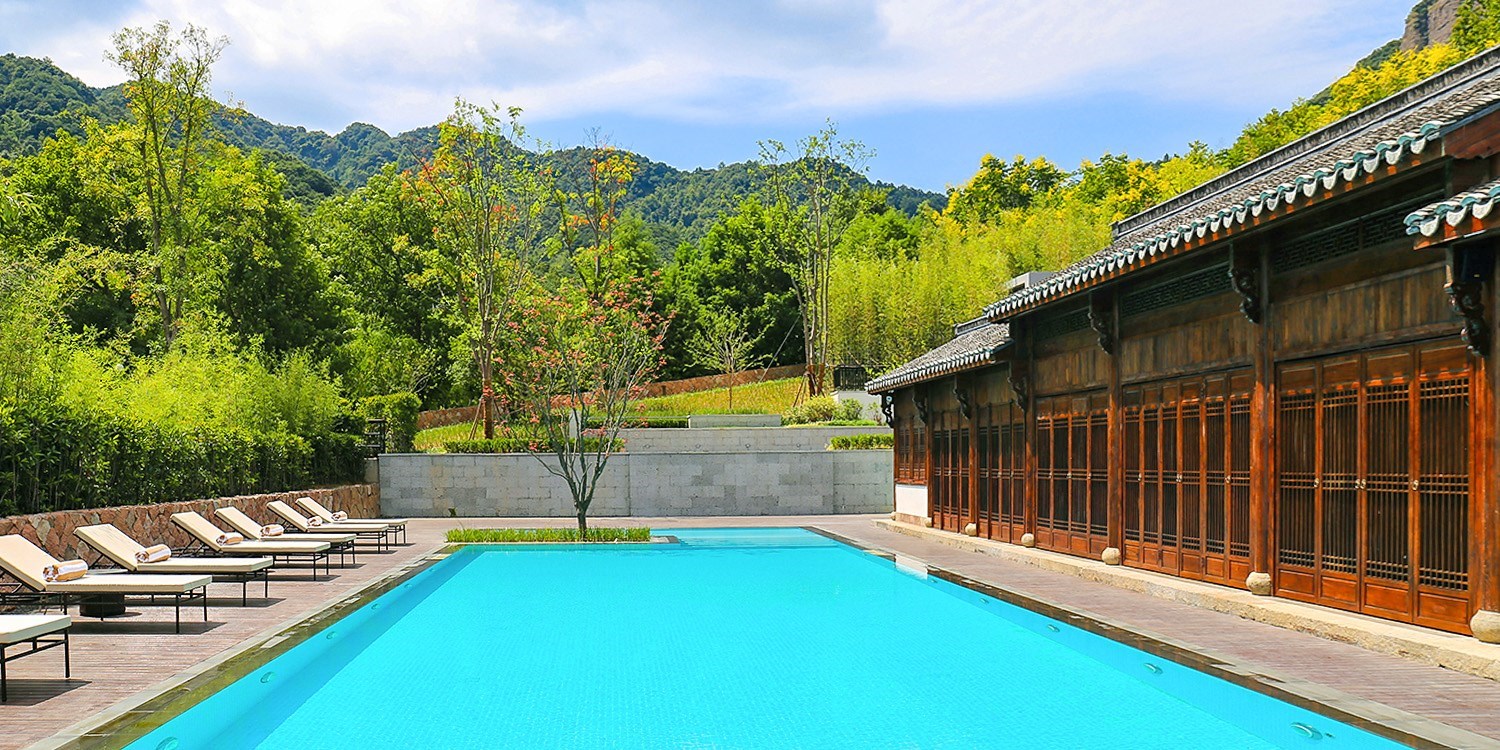 Notes:
1.For Friday and Saturday check-ins, please pay an extra RMB500 per room per night at the front desk
2.For May Day holiday check-ins (May 1-3), please contact the hotel directly for details on room status and extra fees
3.Package not applicable on June 7 and 8
Incorporating elements of traditional Chinese culture, the Shaoxing Lanting Anlu Hotel is the perfect peaceful escape from the hustle and bustle of city life.
Located at the foot of Wanwei Mountain, the Shaoxing Lanting Anlu Hotel is surrounded by mountainous landscapes, dense forests and bamboo. When you stay here, not only will you be close to nature, but you'll also be able to enjoy excellent audio-visual entertainment.
Additionally, the hotel offers guests the opportunity to experience ancient flavors. Designed in an original Huizhou-style manor house, the Anhui Lanting Anlu Hotel contains a collection of classic furniture and sculptures that add a touch of unique and luxurious charm to the whole villa. Hundreds of craftsmen were invited to restore ancient objects featured throughout the hotel.
From the moment you step into the lobby, you'll be able to explore the integrated Huizhou and Jiangnan-style elements featured in this elegant former general's mansion.
Rooms start from 80 ㎡. Book this special travel package and you'll be able to upgrade to the double-sized 160 ㎡ room for free (limited on a first come, first serve basis). The larger rooms feature a small courtyard, where guests will be able to view mountains and flowing streams of the surrounding environment. The sitting rooms and bedrooms are separated by elegant Chinese-style screens. The rooms are also equipped with plenty of modern amenities, including smart sensor toilets, BOSE sound equipment and other hi-tech facilities.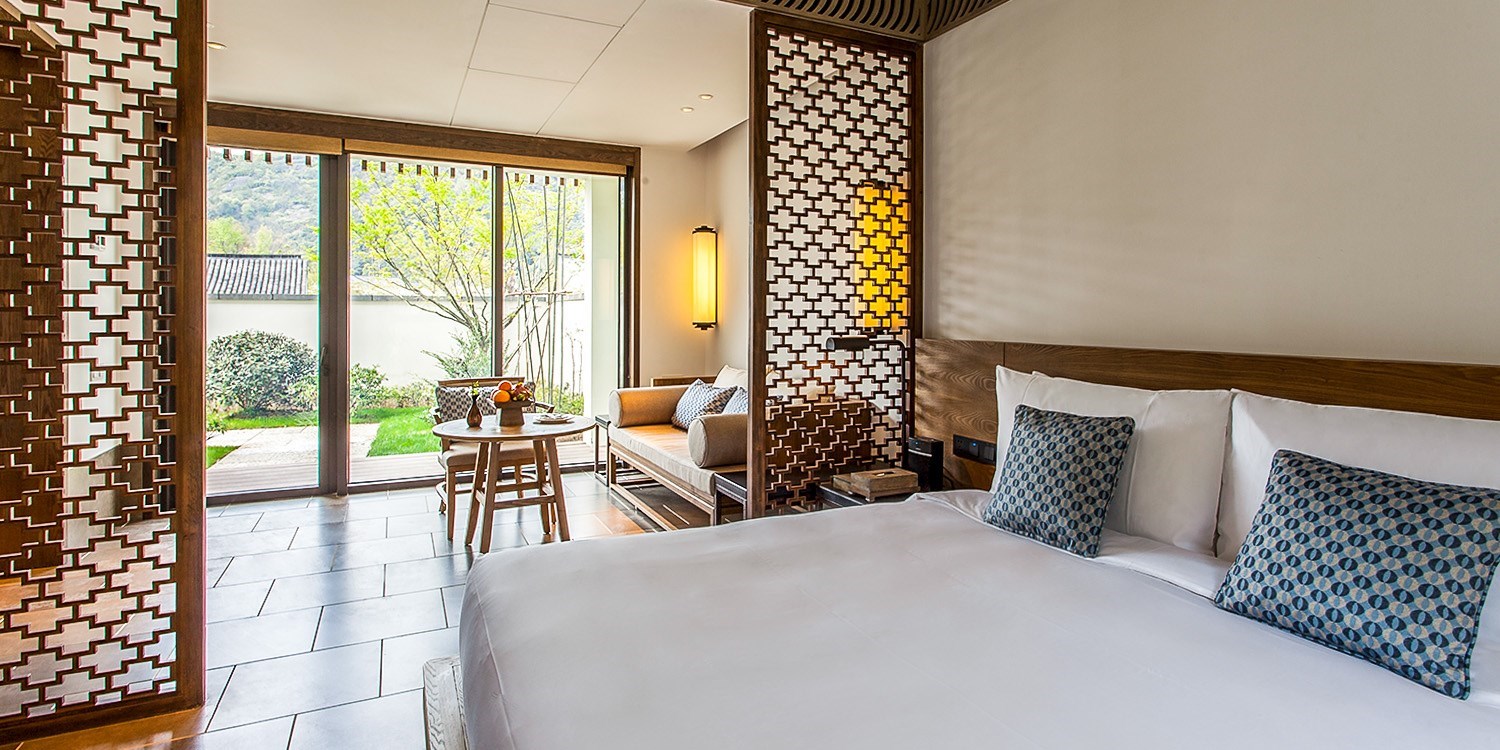 There are also plenty of healthy and delicious dining options for hotel guests. You can expect classic Jiangsu and Zhejiang options, featuring original tastes and natural ingredients. Their culinary team has carefully curated their cuisine perfectly match the hotel's overall aesthetic.
Travel Tips:
The hotel is located about one hour away from Hangzhou Xiaoshan Airport and 20 minutes away from Shaoxing Train Station. For those driving to the hotel from the airport, the Wenzhou Shangzhuyong Expressway is recommended. For those using the Shaoxing South Expressway route, drive to Yangming Road in Yuecheng district to arrive at the hotel.
This offer is different from booking directly with the hotel, and the package only applies when you purchase the voucher through thMart.
Notes:
[Validaty Period] March 26, 2019 to June 30 (excluding April 5-6 and June 7-8)
[Upgrade Reservations] Call 0575-8150 7777 (please book at least 3 days in advance in order to enjoy your upgrade)
[Refund/Cancellation Policy] the reservation cannot be cancelled or changed after confirmation Otherwise, the voucher will be invalid.
Hotel rooms are limited on a first come, first served basis.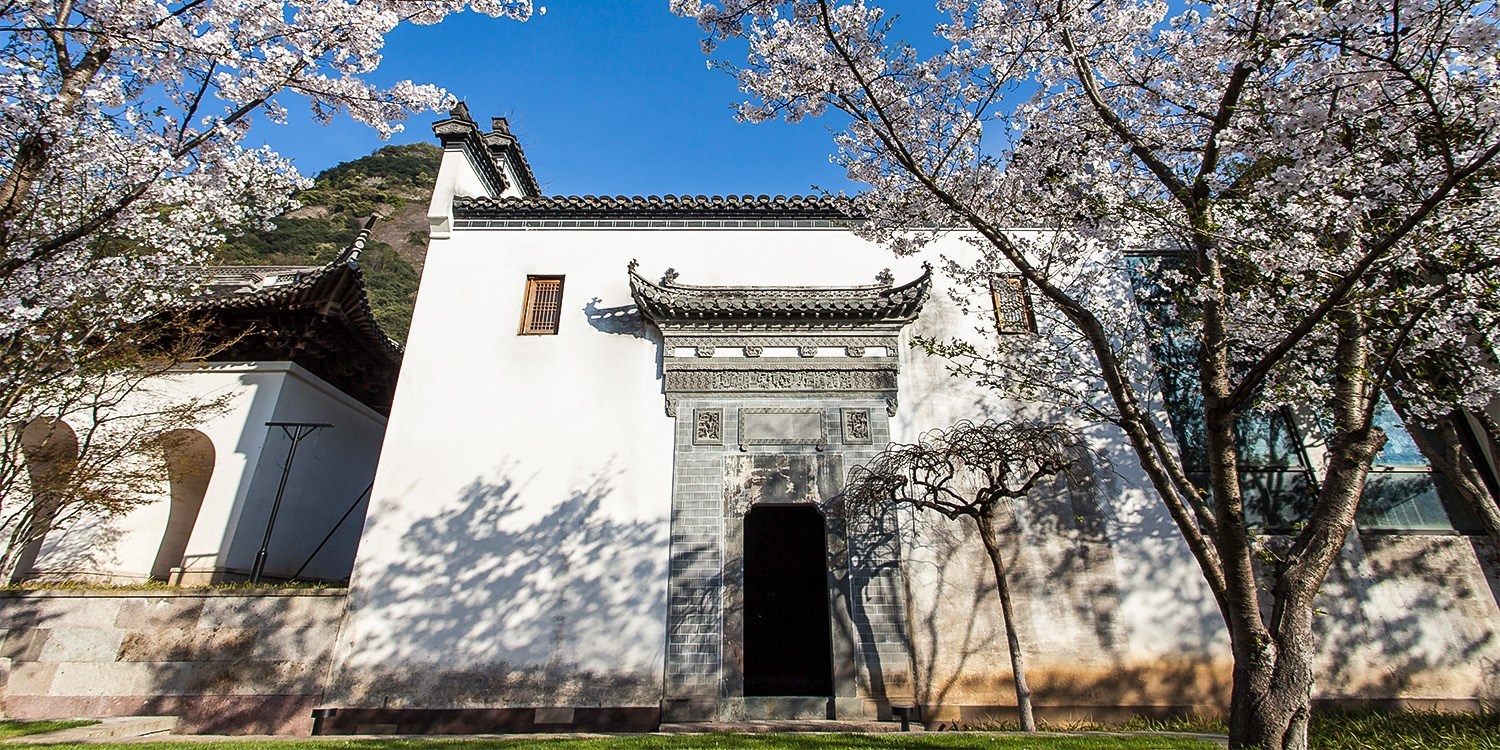 All service charges are included in this package. You don't need to pay any extra fees.
Each coupon can only be used once and cannot be exchanged for cash or shared with other privileges.
Tickets are limited while supplies last.
The offer does not apply to group and booked transactions.
Please read our refund policy carefully before purchasing.
When you apply for a refund, we will refund your unused/unreserved coupons in accordance with the refund policy.
Please do not click on the merchant link to make the exchange on your mobile phone. Clicking on the exchange by yourself marks the coupon as used, invalidating your purchase.
¥3,688/2晚 – 【仅30天本季限定】樱花盛放&绍兴安麓特惠5.5折!限量升160㎡阳明阁+早晚餐+迷你吧
绍兴·兰亭安麓酒店
产品亮点
TOP 20® - 热门优惠,即将售完!
春游踏青,赏花赏景之余,悠闲安逸的住宿也将为假期增色不少~
位于宛秀山侧的 绍兴 · 兰亭安麓酒店,打造古韵徽派庄园,超大面积的别墅让一家人住得更加舒心!
本季,酒店特为 thMart 会员带来【专属 5.5 折特惠】:
¥3,688 / 2 晚,升级入住 160㎡ 阳明阁别墅(每日限量,先到先得哦~),再享早晚餐及手作体验,儿童政策更是放宽至 12 岁!
特惠限时售卖 30 天,不过入住有效期至 6 月 30 日,提前购买 & 预订 >> 锁定专属优惠!
优惠详情
【 限时售卖:3 月 26 日至 4 月 26 日】
¥3,688 -- 宛委阁 2 晚连住
免费升级至 160㎡ 阳明阁(限量)
周日至周三入住,限前 5 间
周四至周六入住,限前 2 间
双人自助早餐
双人晚餐 1 次(价值 ¥500)
手绘风筝制作体验一次(价值 ¥168)
夜宵一次
免费迷你吧
同行 12 岁以下儿童早餐免费
备注:
周五、周六入住,需于前台补差价 ¥500 / 间/夜;
4 月 5、6 日;6 月 7、8 日不适用;
五一假期(5 月 1~3 日)入住,房态及加价请电联酒店详询。
推荐原因
东方"艺术品"——安麓品牌
安麓,在沿袭安缦宁静、私密生活方式的同时,以中国传统文化为核心理念,远离喧嚣、回归东方诗意的平和。悠久的中国历史也给了安麓无限的灵感,每一个细节都在诉说着遥远的故事。
王羲之笔下 —— 会稽兰亭
兰亭安麓位于宛委山侧,经古道可步行至道家第十洞天阳明洞天,崇山峻岭、茂林修竹、清流激湍、映带左右,步行于其间游目骋怀不仅亲近自然,更足以极视听之娱,达到"物我两忘"的境界。
纯正古韵味 —— 徽派庄园
酒店除了从安徽将古建筑运达此处,还将"中国古建复原第一人"秦同千先生个人收藏的家具、雕刻等运用于每一间建筑,更请来数百名手艺工匠对古品进行修葺复刻。从原将军府改造成的大堂开始,融合徽派风格与江南气质,让整座气派奢华的"山庄"独具韵味。
梦想的居所 —— 大师遗作
为中国留下北京颐和安缦、杭州法云安缦等作品的国际设计大师 Jaya Ibrahim,去世前的最后一件作品就是兰亭安麓,践行着"提供令人渴望居住的住所"的理念,让所有建筑适应于环境而不是改造环境。
典雅大空间 —— 会员专享
由 80㎡ 的宛委阁免费升级至 160㎡ 的阳明阁(每日限量,先到先得),前后各有小院,两扇门打开分别是后院山景与潺潺溪流。经过院落进入,挑高的房间透亮温馨,客厅与卧室被典雅的中式屏风分隔;客房内也配有智能感应坐便器以及 BOSE 音响等,现代科技设施一应俱全。
特色江浙菜 —— 养生之道
居于山间,食于山间,酒店餐厅主打养生餐,供应以绍兴菜为主的江浙菜系,曾服务于西溪悦榕庄的主厨会为您带来他的拿手菜。优惠中包含的晚餐您可尽情品尝自然食材的本味,富有本地特色的菜式与酒店推崇的生活方式完全吻合。
ThMartTip:
酒店距离杭州萧山机场约 1 小时,距离绍兴站约 20 分钟。
自驾路线:温州上诸永高速朝杭州方向,从绍兴南下高速,行至越城区阳明路抵达酒店。
此优惠与直接向商家预订方式有所不同,您将通过 thMart 交易程序购买兑换券。
【适用日期】 2019 年 3 月 26 日至 6 月 30 日(4 月 5~6 日、6 月 7~8 日不适用)
【预约方式】 请至少提前 3 天,致电 0575 - 8150 7777 进行预约
【退改政策】预订一经确认,将不可取消或更改入住日期,否则兑换券当作废论。
酒店客房有限,按照先到先得分配,可能根据当日实际预订予以调整,敬请谅解。
套餐已包含服务费,您无需额外支付,其余消费除外。每张兑换券只能使用一次,兑换券不能兑换成现金、也不能与其它优惠同享。兑换券数量有限,售完即止。优惠不适用于团体及已预订的交易。
请您在购买前仔细阅读我们销售条款中的退款政策。对于您未消费/未预约的兑换券,在您申请退款时,我们将按照退款政策为您办理退款。请勿在手机客户端自行点击商户兑换,自行点击兑换则视为该兑换券已使用,因此视同作废。